Stabilization/solidification
In the last few years Baioni, in the light of new operational scenarios for the supply of tecnologies, products, services and know how in the Environment sector, offers technical solutions through innovative techniques of soil washing, thermal desorption and stabilization/solidification of solid waste. Experience in the field where Baioni has been able to confront themselves with leading companies for projects of remediation of soils contaminated with hydrocarbons and heavy metals and of stabilization-solidification of hazardous waste.
Alongside the high operating costs of traditional remediation processes (removal and burial), new alternative techniques have recently been developed, more competitive in terms of price, such as stabilization / solidification (S / S) techniques. A Baioni inertization plant is a treatment plant for solid and liquid waste, which, coming from other processes, are loaded with pollutants, therefore the aim is to reduce the potential danger of the waste and the possible dispersion of pollutants.
Baioni is able to provide new technologies that can be used including soil washing, thermal desorption, inertization by personally taking care of the design, processing of raw materials, construction of carpentry, sandblasting, painting, the construction of electrical systems, assembly and final testing.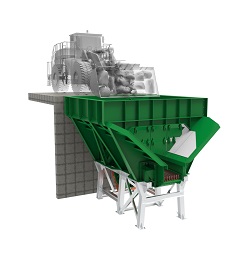 feeding and pre-screening