The origin of the crushing: from yesterday to today
The crushing techniques coincides with the human civilization; already in the early prehistoric times the seeds were ground with stone grinders, while pestles and mortars were used to grinding different nutrients and ingredients.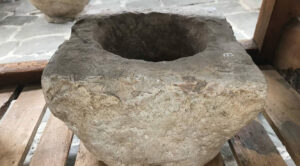 Ancient mortar

Therefore, man has always need to crush and grind products, first for food and then to solve the problems related to travel, that is, the construction of roads and homes.
Until the nineteenth century, the machines for crushing aggregates and minerals were used for "final" processing. In fact, heavy flat stones were used dragged along a circular track, first by slave, then by animals. It was only around the 20th century that pestle mills moved by camshafts operated by hydraulic power (water) appeared.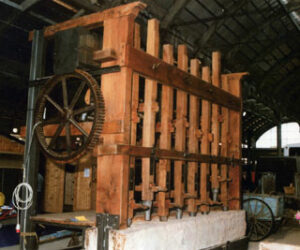 Pestle mill
The Chilean mill was made up of heavy stone or metal wheels that rolled on a circular track, (nowadays muller) always driven by a hydraulic force.
All these systems were only capable of receiving a material of a few centimeters, so the processing was previously done by hand, with mallets. Only in the twentieth century steam engines begin to be commercialized for powering loaders to move large blocks of rocks.
In the same period, the first crushing machines were studied.
Today's crushing techniques are based on nineteenth-century technology.
1869 for jaw crushers and 1879 for cones.
Starting from 1925 there was instead an important innovation in what concerns the secondary and tertiary crushing, hammer mills and shape correctors date back to this era.
"The main innovation of current production is due to the use of hydraulics, electronics, the quality of materials, special steels and alloys and greater attention to environmental problems".
Our work is based on the history of crushing. Baioni develops a wide range of technologies related to crushing, such as jaw crushers, granulators, cone crushers, primary, secondary, reversible hammer, impact, bar, shape correctors, crushers and vertical axis mills.
                    BP jaw crusher

                       

Primary mill MIP

 
                    MIS secondary mill
The company count on over 60 years of experience in this sector, combined with the high competence of our technicians who are inspired by the past but with a constant eye on innovation.